We have the background and experience to determine the best, fastest, and most cost effective design, modification, production, or repair methods for your specific situation.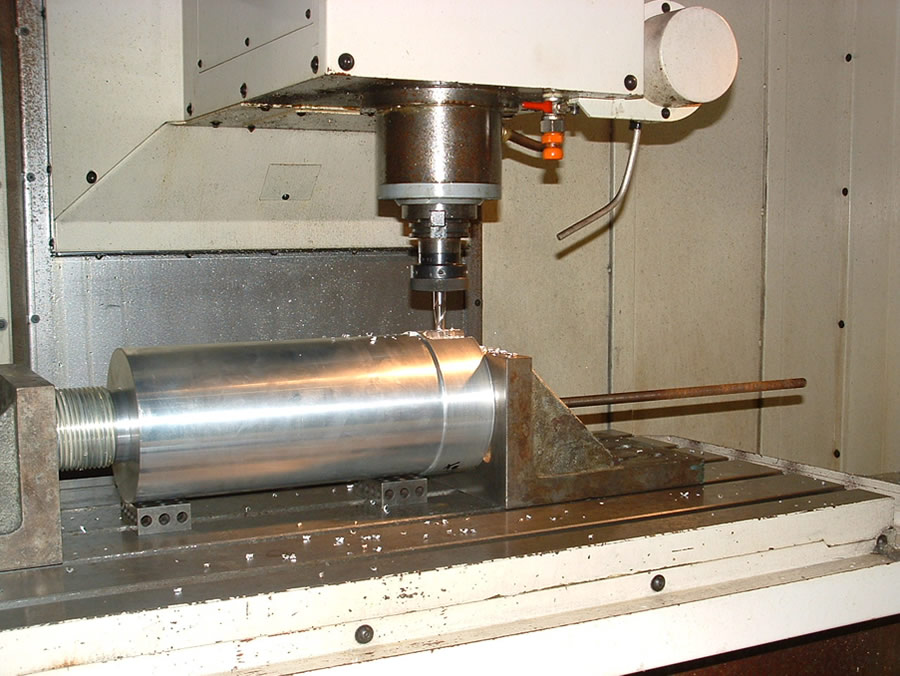 New boat shafts and shaft couplings
Complete shaft straightening services
Sheaves re-bushed and oversize bushings
Shafts built up and re-machined
Jaws and gears rebuilt, restored, or remanufactured
Complete welding services
Propeller hub boring
Custom boat hardware & engine parts, all types
CNC machining and design assistance
Repair and re-building of factory machinery
Prototype assembly
Research & development
Design assistance
Drafting & CAD support services
Consulting expertise
Custom engineering
Technology, versatility, and diverse capabilities
Machining... cutting... turning... burning... drilling... milling... boring... forming... straightening... welding... custom fabrication... assembly... and secondary operations... Production of new and modified parts and systems including developmental and prototypes... boat shafts and couplings...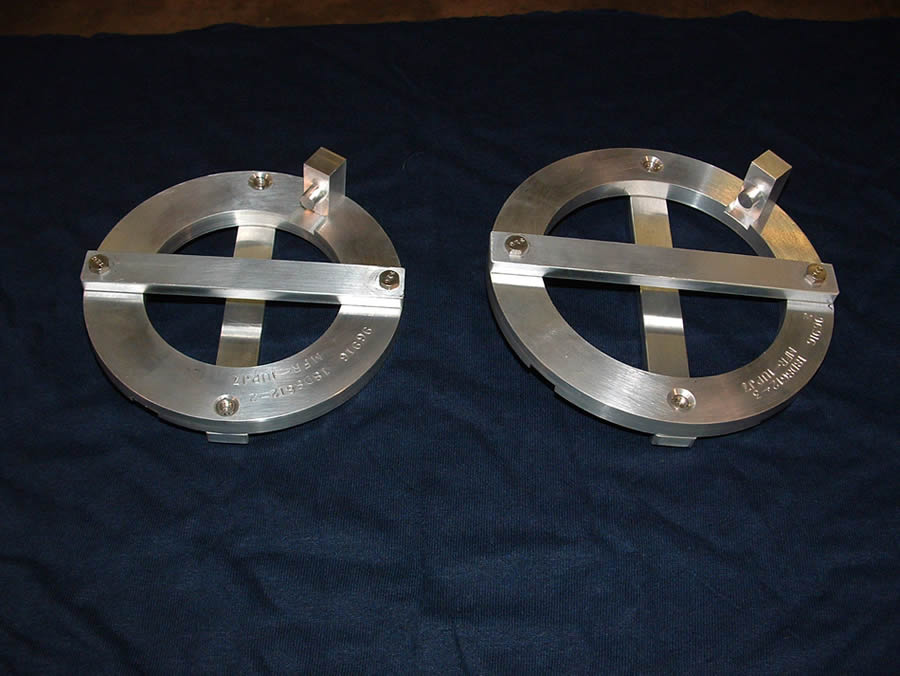 Repairs on factory machinery and construction equipment... broken bolts... stripped threads... re-bushing sheaves, building up and re-machining shafts... restoring gears and jaws... pour and fabricate custom Babbitt bearings for replacements in machinery... We understand the mechanical requirements and the best methods for specific job completions; we can handle every phase, and we "DO IT RIGHT!"
Boat shafts
We are precision boat shaft experts. Bircher Inc. has achieved a solid reputation for manufacturing hard to find, top quality boat shaft systems. If you are looking for flawless boat shafts with the best customer service and support... then you have come to the right place.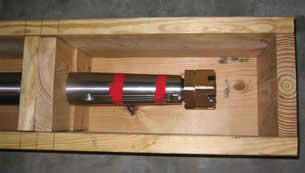 Bircher Incorporated specializes in precision, high performance marine boat shaft systems. Diesel power and higher gear ratios require higher strength shafts. We use only premium grades of shafting material for manufacturing shaft systems to ensure the necessary strength with the appropriate flexibility and corrosion resistance. We provide absolute matched fit of parts. Keyways are hand fitted to achieve a finely tuned precision custom fit.
Our customers include luxury yacht manufacturers as well as custom and production boat builders, from the largest to the smallest boat yards. The majority of our customers are on the east coast and gulf coast of the USA. We are located near the beach and we know boats. In fact, the majority of our business is for marine applications.

High performance boat shaft systems
Accurate machining, premium material, precision cuts, and frequent straightness tests ensure top quality boat shafts.
Our quality management systems comply with the requirements of many industry quality standards, but more importantly, Bircher Incorporated strives not just to meet but to exceed the requirements and expectations of our customers. Our reputation and success with manufacturing top quality boat shaft systems has steadily increased the demand for our services. Our business experience meeting the demands of professional boat engineering organizations has raised the bar and enhanced our already keen quality control standards. Plus, we have a real world approach to manufacturing shaft systems which provides reliable and superior quality products that perform correctly the first time. Bircher Inc. uses CNC capabilities as well as conventional machinery to their best advantages. Bircher Inc. can also offer consulting, manufacturing engineering, and allowances for special considerations.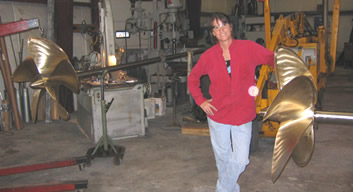 We work closely with our customers to achieve solutions and to meet contract requirements. We have the knowledge and background to make suggestions for product upgrades. We have the experience to assist with research and development projects. Our employees and machinists are talented, experienced, and seasoned; our team of experts is our greatest asset. We encourage a creative processing method with an open exchange of ideas and information. We communicate this process with our customers. This "team approach" to quality control ensures highest quality as well as superior manufacturing and service results.
Our boat shafts are custom manufactured to each individual vessel's specifications and requirements. All finished shaft systems are triple checked for quality control, including a rigorous dye test, to meet exact tolerances before being allowed to be picked up or shipped.
The degree of quality determines the useful life of boat shaft systems. Proper engine/shaft alignment of drive systems is critical to top performance, especially with larger vessels, and shaft straightness becomes more crucial with the longer and greater diameter shafts. A few degrees off at one end of a shaft can translate to inches off at the other end.
Our straightening presses
We have small, medium, and large straightening presses providing 4 ton, 50 ton, and 100 ton capacities. We can straighten shafts up to 30 feet in length. Shaft straightness is a serious priority; we spend as much time monitoring shaft straightness as in the machining of the shafts. Shafts are straightened by cold bending to factory specifications.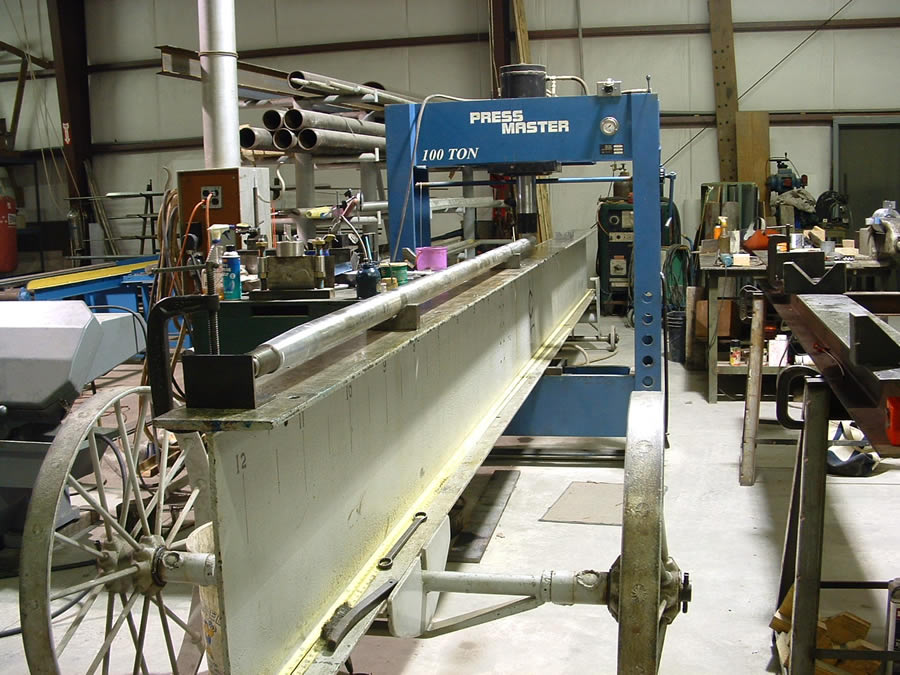 Our reputation is built on superior products, on time deliveries, and a commitment to customer service. We get the job done right the first time.
We specialize in parts requiring the highest quality.
We specialize in parts that give others problems.
We specialize in difficult parts with close tolerances.
You can be assured of blueprint perfect accuracy to ensure that the end product meets our customers' needs.
We are precision experts. Quality machined parts on spec and on time. Prototype to CNC production runs. Tolerances can be held within .0002.
Shaft repair and re-manufacturing
Shafts not meeting manufacturer standards cannot be re-worked, they must be replaced. However, in some situations shafts can be re-manufactured. Visual as well as magna-flux inspections will determine cracks, wear, and stress problems. Re-manufacturing may involve cleaning, building metal with welds, re-turning, and much straightening. Shafts are inspected for straightness at all bearing points.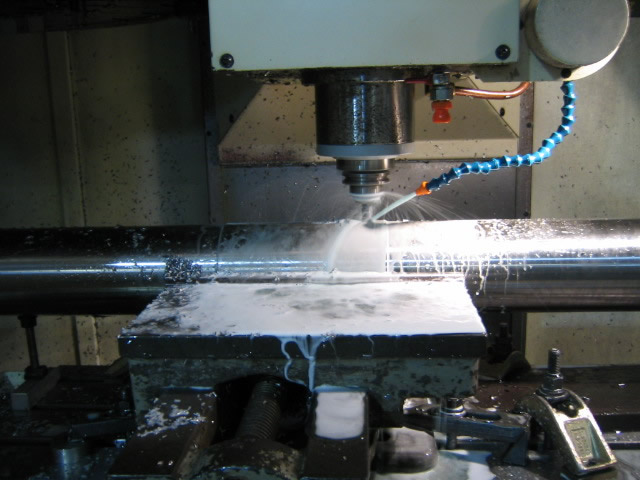 Different types of shafts
Bircher Inc. manufactures many tpes of shafts and shaft type parts. Tapered or straight shafts, gear shafts, motor shafts... shafts can be furnished with keyways, drilled and tapped, heat treated, ground or un-ground.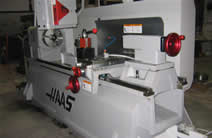 Bircher Inc. offers custom fitted and custom sized propeller retention systems as well as custom coupling retention systems. This includes all types of custom nuts (castle, stop, slotted, pilgrim, fairwater, etc).
Custom propeller caps for fairwater systems: The propeller cap (also called the fairwater cap, dunce cap, or fairwater nut) fits over the end of the propeller shaft and propeller nut (boss nut) and is bolted to the after face of the propeller hub. The cap's conical shape completes the hydrodynamic contour of the hub and protects the threaded shaft end and the propeller nut from damage by contact with seawater. The cap is filled with preservative to prevent seawater from contacting the ferrous shaft and propeller nut. Propeller caps may be one- or two-piece designs (a one piece design being the fairwater nut). A fairwater will allow the after-wash of the propeller to re-converge smoothly.
Aqualoy shafting is manufactured specifically for propeller shafting.
Aqualoy 22 material is simply the best. It offers superior strength and its corrosion resistance is rated the highest of any boat shafting available. It is the best and only choice for high horsepower applications. Bircher Inc. uses Aqualoy 22 for most boat shaft system manufacturing.
Please inquire below with any questions you may have about shaft machine work or boat shaft systems!